Former Head of Film at IMAX to lead Content Production
NEW YORK CITY, NOVEMBER 8th, 2018 – Today, Magnetic 3D formally announces the appointment of Andy Gellis as Chief Content Officer as the Company expands its product line and production capabilities with immersive 4K content.
Magnetic 3D is the industry leader in Glasses-Free 3D solutions and uses patented technology to allow the TV to "wear" the glasses instead of the viewer with products ranging from handheld 3D Tablets to 100" 3D Displays and 3D Video Walls. The Company offers an end-to-end platform for agencies and brands to amplify engagement with consumers by providing premium content and tools for experiential marketing and digital signage applications.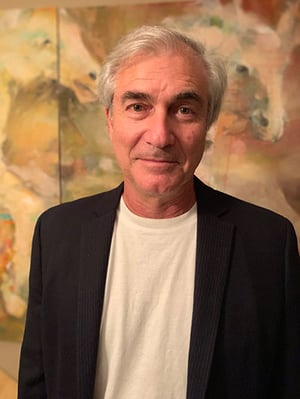 Mr Gellis will oversee the development, distribution and adoption of Glasses-Free 3D content as the Company unveils its new stereo and multiview formats for the Wildfire and Empreza product lines. His role will also include live production, the acquisition and conversion of content into the new format for the Company's library as well as research and development to advance the format for future home applications.
"We are extremely excited to have Mr. Gellis officially on board," said Tom Zerega, Founder and CEO of Magnetic 3D. "Andy is passionate about delivering the highest quality 3D experience to the consumer wherever they might be and that is exactly the type of commitment to customer success we need to support our expansion."
Gellis is no stranger to 3D production and distribution and has run Cinevest/Andrew Gellis Productions, Inc., an independent media development and production company, since 1984. He has enjoyed a career in 2D and 3D film production for companies such as CBS Films, 20th Century Fox, SONY Pictures Entertainment and IMAX Corporation. His roles at IMAX and SONY afforded him opportunities to write and produce some of the most successful and highest grossing 3D films in history. He was responsible for managing relationships between IMAX and NatGeo, Discovery, the Smithsonian Institution, Lockheed-Martin, NASA, and the 120 worldwide museums, aquariums, and zoos housing IMAX theaters. He also has experience representing actors, writers, and directors for film, television, and stage as a talent agent and has had a hand in discovering and bringing Broadway shows to fruition.
"I've head the pleasure of working alongside the Magnetic 3D team for the past year and have been tracking the development of Glasses-Free 3D for a long time," said Andy Gellis. There is no doubt that this technology and the format are ready for primetime and I'm thrilled to be helping scale the company and drive awareness for 3D without glasses as a viable platform for advertisers in the digital signage marketplace."
With the advent of large format 4K displays and the advancement of precision engineered lenticular lenses, the technology for delivering Glasses-Free 3D has finally come of age allowing for entirely new immersive and captivating experiences.
"Walking by a 3D display without the need for special glasses is unique and startling for consumers, and a great way for brands to truly distinguish their message. The Holy Grail for 3D has always been to make it glasses-free and I'm proud to be making it happen.
The Harvard graduate is a member of the Academy of Motion Picture Arts and Sciences and the Writer's Guild of America. He served as Chairman of the Giant Screen Cinema Association (GSCA) and President of the Large Format Cinema Association (LFCA) and oversaw their merger.
About Magnetic 3D
Headquartered in New York and Los Angeles, Magnetic 3D (http://www.magnetic3d.com) designs and produces industry-leading, autostereoscopic (glasses-free 3D) solutions for a wide array of applications. The Company's proprietary blend of hardware, software and content provides audiences with a realistic visual experience that includes both captivating off-screen "pop" and the immersive perception of depth. Magnetic's end-to-end platform is engineered to help agencies and brands amplify engagement with consumers by providing premium content and production tools for 3D experiential marketing and digital signage.
Magnetic 3D sells directly to marketers and through a global network of value added distributors and channel partners creating solutions for point of sale applications, interactive campaigns, visual merchandising, gaming, medical, virtual and augmented reality, staging and lighting, concessions, information displays, and holographic experiences. The Company works across numerous verticals including: digital-out-of-home, retail, hospitality, casinos, QSR, music and sports venues, theme parks, lobbies and many more.