Glasses-free 3D displays and 3D projection mapping are two cutting-edge technologies that are rapidly transforming the world of experiential marketing campaigns and immersive installations. When used together they can create truly breathtaking and unforgettable experiences for customers, visitors, and audiences.
Retail stores, theme park rides and attractions, product launches, science centers, location-based entertainment, and immersive-art exhibitions are just a few examples of where these technologies can be used together to create more immersive storytelling and highly-engaging user experiences. Read on to learn how these complementary solutions can work together to amplify immersion and take experiences to a whole new level.
Glasses-free 3D Displays – LCD-based solutions also known as "autostereoscopic" monitors - use a range of advanced technologies to create a 3D effect without the need for glasses. This technology can create a variety of different effects - from simply displaying rendered 3D images or video, to showing more complex interactive 3D content such as simulating a hologram or a "Pepper's Ghost" style illusion. In these use cases they are often referred to as "holographic displays". When used in an experiential marketing campaign or an immersive installation, autostereoscopic displays are deployed to create unique and exciting environments that draw audiences into an experience while also elevating engagement.
3D projection mapping, by contrast, uses powerful projectors and specialized software to create a 3D effect on irregularly-shaped surfaces such as buildings, sculptures, and other objects. This technology allows designers to create stunning 3D visual effects on a large scale that wrap around the surfaces of objects, creating an immersive experience and adding dimension to visual content.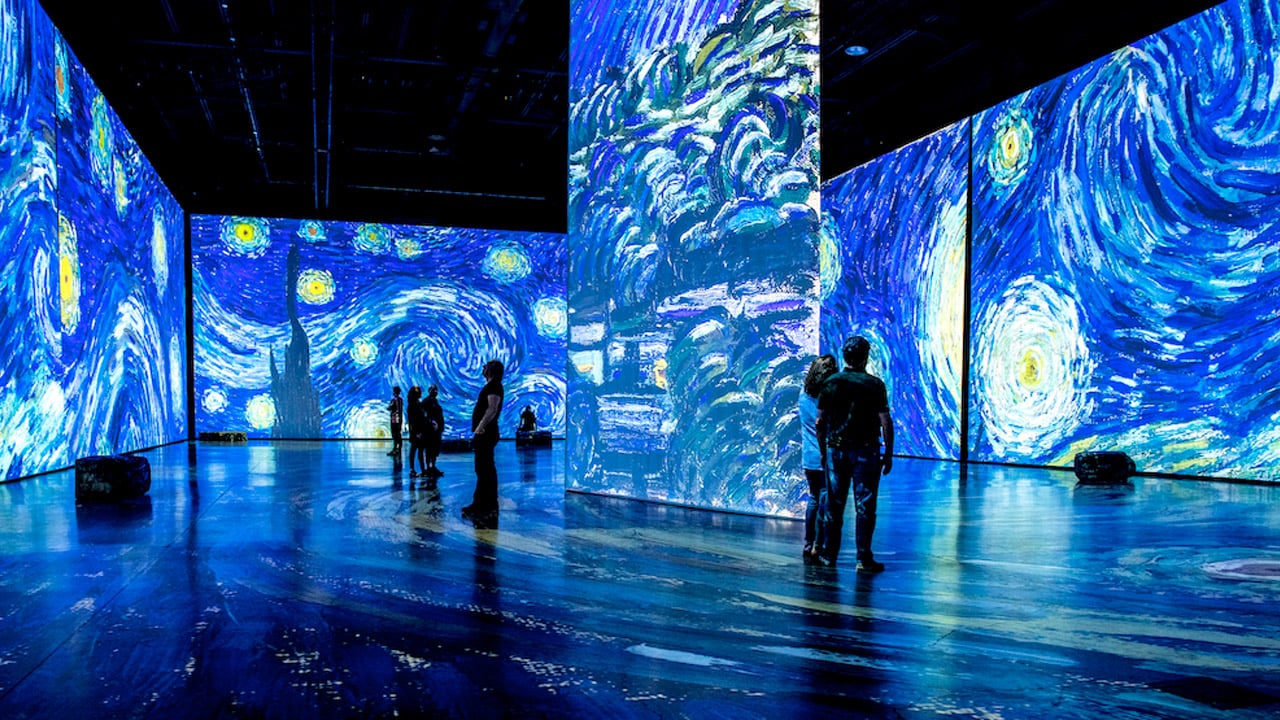 Imagine Van Gogh 2020 (Imagine Van Gogh)
When used in concert, glasses-free 3D displays and 3D projection mapping can deliver an even greater sense of wonder. Creative technologists and designers can leverage 3D Displays for Digital Signage or Information Displays while also deploying them as part of carefully-designed illusions - camouflaging and integrating the displays into sets or environments to produce holographic effects. Pairing 3D monitors without glasses and 3D projection mapping creates an opportunity for new visual effects and storytelling capabilities that deliver more "wow" factor. What's more, these technologies can run on the same show systems and use most - if not all - of the same media assets.
Immersive storytelling can also leverage these technologies in a number of ways. - A retail store, for example, might use glasses-free 3D displays to create an immersive in-store environment to showcase products in a new and exciting way for digital merchandizing, while 3D projection mapping could be used outside to create stunning visual effects on the surface of the building to draw customers inside. Or imagine an automobile manufacturer projecting 3D onto an actual vehicle while using Glasses-Free 3D Displays to explain the premium and innovative features perhaps interactively with voice activation or gesture control. These combined activations turn sci-fi into reality and leave consumers with a sense of awe, leading to shareable moments that light up social media.
Similarly, theme park rides and attractions can harness glasses-free 3D displays in pre-show experiences as a "window into the metaverse" to explore 3D worlds, content, and unique IP like never before. The tech creates memorable experiences that will surprise and delight guests by transporting riders to another world, while 3D projection mapping can be used to overlay "augmented reality" content onto the real world. The beauty of both technologies is that they can both use the latest 3D rendering engines – like Unity or Unreal Engine – for the creation of real-time and interactive content.

Whether deployed in a retail, event, or theme park spaces, especially in markets where price per square foot is at a premium - New York, Los Angeles, Miami, Las Vegas to name a few - 3D monitors offer the opportunity to gain additional storytelling space beyond the wall without the need for large mirrors or scrims that monopolize space to create holographic effects. The 3D displays provide natural motion parallax and several feet of perceived depth and off screen "pop" while taking up the same amount of room as a 2D monitor. They are so impactful that one strategically-placed 3D display could replace multiple 2D displays or TV's. And 3D Projection Mapping can offer the scale and resolution of LED, but perhaps with a more reasonable price tag while eliciting more excitement from viewers as 2D LED signs become commonplace.
In conclusion, glasses-free 3D displays and 3D projection mapping are two technologies that are well suited for experiential marketing campaigns and immersive installations. When used together they can create truly immersive and engaging experiences that are sure to leave a lasting impression on audiences. Whether you're looking to create an immersive retail environment, a stunning theme park ride or attraction, or an engaging product launch, glasses-free 3D displays and 3D projection mapping are two technologies that are definitely worth considering and pack a powerful punch.
For more information visit us to learn more at www.magnetic3d.com
About Magnetic 3D:
Headquartered in New York City, Magnetic 3D enables greater access to the world's 3D content and the metaverse with an industry-leading, end-to-end product line of Glasses-Free 3D (autostereoscopic) solutions ranging from 3D mobile devices and desktop monitors to 100" 3D Displays in Landscape and Portrait format, as well as 3D Video Walls up to 275".
The Company's proprietary platform of modified LCD displays features a precision engineered, optically-bonded 3D lens and custom electronics which enable 3D video capabilities without the need for 3D Glasses or VR/AR headgear. The visual experience provides audiences with captivating off-screen "pop", akin to holographic effects depicted in science fictions films, and the immersive perception of depth on what would otherwise be a flat display.
Magnetic 3D provides the highest-quality Glasses-Free 3D visual experience for B2B applications across verticals such as retail, digital signage, gaming, digital-out-of-home advertising, Pro AV, Smart City, IOT, hospitality, movie theaters, casinos, hotels and entertainment venues. The Company also provides visualization solutions and consulting services for aerospace, medical and defense applications where depth perception is required. The company is actively adding NFT integration and creator tools to enable next-generation visual artwork for B2B and B2C applications.
Website:
Instagram:
https://www.instagram.com/magnetic3d/
Twitter:
https://twitter.com/magnetic3d
YouTube: