Acoustiguide, Magnetic 3D, Bequest.Art Showcase Ancient Art & Cultural Heritage on Glasses-free 3D "Holographic" Display to Upgrade Museum Exhibits with Immersive XR Visuals at American Alliance of Museums Annual Meeting & MuseumExpo in Boston.
NEW YORK, May 19, 2022 – Acoustiguide, a world renowned provider of interactive and interpretive visitor experiences for museums, art galleries, heritage sites, and tourism destinations; Magnetic 3D, an innovative Glasses-Free 3D and XR platform company; and Bequest.Art, providing ancient art & cultural heritage preservation content via blockchain, have partnered to showcase artifacts on a 55" "Holographic" Glasses-free 3D display. The installation will demonstrate how museums can harness immersive XR visuals easily - without the viewer wearing 3D glasses, loading a mobile app, or putting on a VR headset.
The 3D technology platform enables enhanced storytelling capabilities and elevated engagement, as well as possible tie-ins with NFTs and/or the Metaverse. The solution will be on display in Acoustiguide's Booth #831 at the AAM Annual Meeting & MuseumExpo in Boston, May 19-22, 2022.
"We're thrilled to be joining our friends at Acoustiguide for AAM," said Tom Zerega, Founder & CEO of Magnetic 3D, and partnering to bring museums, cultural institutions and heritage sites exciting new visualization tools to elevate the visitor experience with immersive technology."
Magnetic 3D offers cost-effective and logical alternatives to using Augmented or Virtual Reality (AR/VR) with an end-to-end platform designed to provide audiences with a shared immersive experience made possible with proprietary "holographic" 3D tablets, 3D displays and video walls of varying sizes coupled with a suite of production tools for that leverage popular 3D applications.
The installation at AAM will feature Magnetic 3D's Wildfire DS Series Display with rare artifact content provided by Bequest.Art, which has been volumetrically captured using photogrammetry, then 3D modeled and animated using Blender by Magnetic 3D's team to demonstrate rendered Glasses-free 3D & XR capabilities. Additionally, the team will offer a glimpse into a new Unity 3D tool set that enables creators to produce interactive applications with "holographic" visuals in real-time. The goal is to present how a museum could place such experiences beside physical museum items to assist with visual storytelling, capture significantly more interest and engagement, while enhancing artifact preservation so it's digital twin can be displayed in 3D virtually anywhere.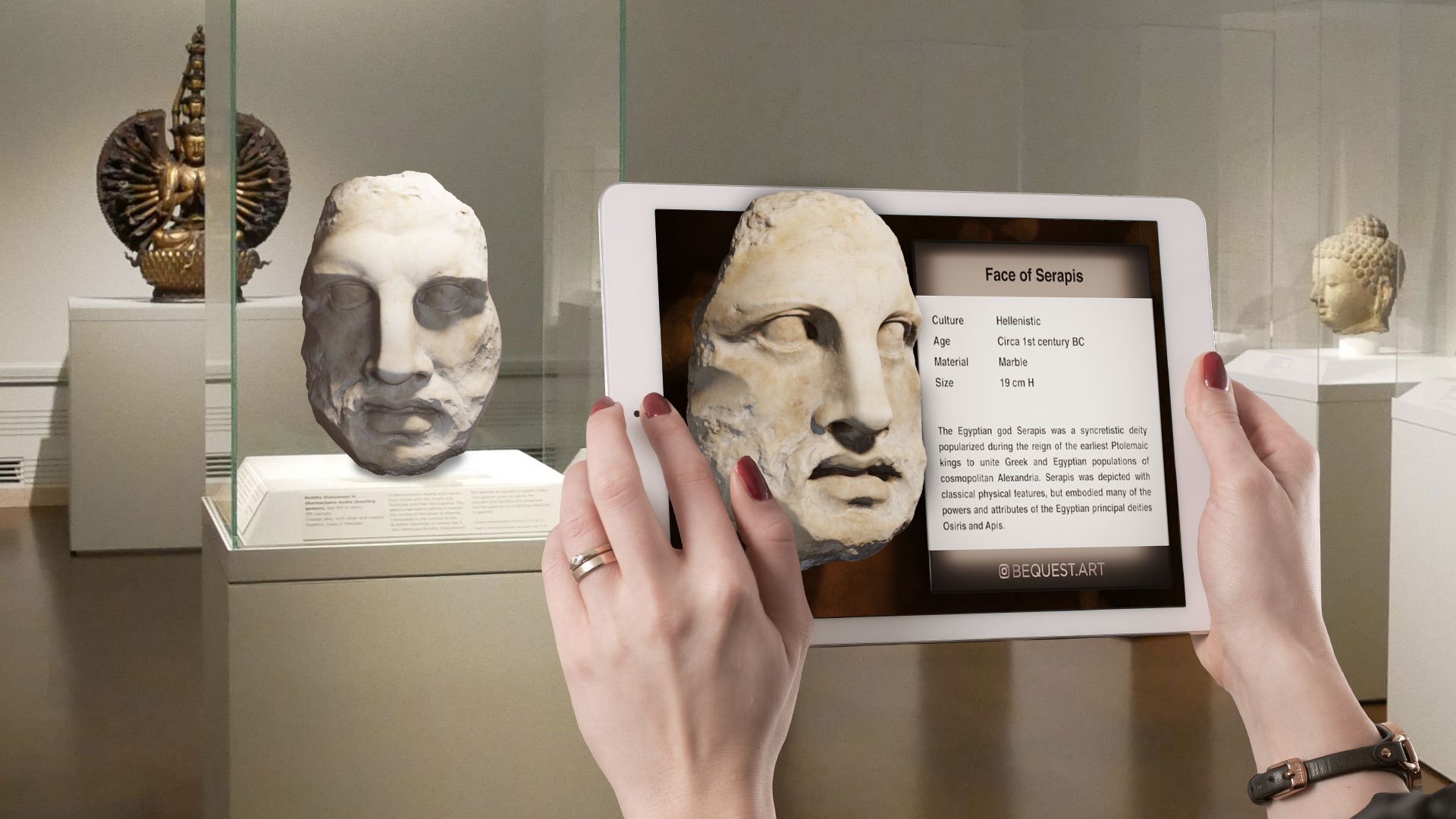 Daniela Gorelov, co-CEO and the Managing Director of Acoustiguide added, " We are incredibly excited to partner with Magnetic 3D in a variety of ways… some of which will be unveiled later in 2022… Our baseline goal has always been to enhance the visitor experience whilst generating additional and important streams of revenue for our partners. Magnetic 3D's solutions open up exciting new avenues for all our audiences."
The 2022 AAM Annual Meeting & MuseumExpo (#AAM2022) gathers professional audiences to converge around the future of the museum field, creating solutions to the biggest challenges facing museums today. As the the only event of its kind that brings together the entire museum ecosystem to collaborate across disciplines and tackle the most pressing issues, nearly 60 museums will be represented and many more cultural destinations and innovative tech hubs, and center on four key focus areas: Museums in Society, Organizational Culture, Innovation, Financial Wellness. For a glimpse of the future, visit Acoustiguide's Booth #831!
About Acoustiguide:
Acoustiguide is the first-in-class provider of interpretive services for audio tours and audio guides. We create multi-lingual, character-driven, immersive, interactive audio experiences that seamlessly pair with our intuitive audio tour software and hardware solutions. Whether you are a museum, gallery, exhibition, tour, entertainment venue, our award-winning team of passionate storytellers will deliver their trademark creativity.
Acoustiguide partners with our clients from initial concepts to ongoing support, providing the staffing, marketing, and training to ensure Acoustiguide becomes a living part of your site's experience. We develop with you the ideal turnkey or bespoke audio or multimedia guiding solution. With a global network of offices and a network of distributors around the world from New York to Sydney, from Shanghai to Paris, and from Tokyo to Barcelona, Acoustiguide is the first choice of museums, tourist sites and exhibitions around the world.
Every client comes to Acoustiguide with a unique set of needs, but they all share a common goal: to maximize the impact of their limited financial resources with world class interpretation. Acoustiguide's account managers will walk you through our different business models, guiding you to the most cost-effective solution for your institution.
Twitter:
https://twitter.com/acoustiguide
Instagram:
https://www.instagram.com/acoustiguide/
LinkedIn:
https://www.linkedin.com/company/acoustiguide/
About Magnetic 3D:
Headquartered in New York City, Magnetic 3D enables greater access to the world's 3D content and the metaverse with an industry-leading, end-to-end product line of Glasses-Free 3D (autostereoscopic) solutions ranging from 3D mobile devices and desktop monitors to 100" 3D Displays in Landscape and Portrait format, as well as 3D Video Walls up to 275".
The Company's proprietary platform of modified LCD displays features a precision engineered, optically-bonded 3D lens and custom electronics which enable 3D video capabilities without the need for 3D Glasses or VR/AR headgear. The visual experience provides audiences with captivating off-screen "pop", akin to holographic effects depicted in science fictions films, and the immersive perception of depth on what would otherwise be a flat display.
Magnetic 3D provides the highest-quality Glasses-Free 3D visual experience for B2B applications across verticals such as retail, digital signage, gaming, digital-out-of-home advertising, Pro AV, Smart City, IOT, hospitality, movie theaters, casinos, hotels and entertainment venues. The Company also provides visualization solutions and consulting services for aerospace, medical and defense applications where depth perception is required. The company is actively adding NFT integration and creator tools to enable next-generation visual artwork for B2B and B2C applications.
Website:
Instagram:
https://www.instagram.com/magnetic3d/
Twitter:
https://twitter.com/magnetic3d
YouTube:
https://www.youtube.com/channel/UCKCDhaUnK9jr8Z_QWW7xf7g
About Bequest.Art:
Bequest NFT Partners or "Bequest.Art" was founded to inspire community with ancient art & cultural heritage preservation, by stimulating new educational models and advancing artifact stewardship capabilities. With deep access to private collections, Bequest provides curated services to virtualize collections and develop creative artwork, exhibitions, immersive experience, and NFT concepts.
The timeless and rare artifacts we bring to market from to-date Mesoamerican, Egyptian and European cultures, some dating back to 3,000 BC, are accompanied by their meaningful history in ancient cultures, relevance for contemporary artistic inspiration, and philanthropic impact. We envision blockchain technology enhancing humanity's stewardship capability to authentically preserve heritage, transcending the physical into mixed reality and Metaverse.
Website:
Instagram:
https://www.instagram.com/bequest.art/
Twitter:
https://twitter.com/BequestArt/
YouTube:
https://www.youtube.com/channel/UCRx9QK08CYuF8Tu2m41PTHA
Press Contacts:
Daniela Gorelov
Co-CEO and Managing Director
Acoustiguide
Email: dgorelov@acoustiguide.com
Andy Gellis
Chief Content Officer
Magnetic 3D
Email: Agellis@magnetic3d.com
Eugene Lopin
Co-Founder
Bequest NFT Partners
Email: eug@bequest.art