A budding relationship between product marketing and immersive display technology elevates visual merchandising in-store
SANCTUARY MEDICINALS, the well-regarded and well-established cannabis medicinal and recreational supplier with shops across Massachusetts, New Hampshire and Florida, has always sought to cultivate lasting relationships with its customers. However, finding innovative ways to communicate, educate and inform patrons about their extensive array of products, and the therapeutic benefits marijuana offers has proven challenging.
Sanctuary was looking for something mind-bending, that would immediately captivate customers like a holographic monitor to place at the front of its newest store in Brookline Mass - a solution that would showcase important information on the latest products like a digital sales associate while entertaining those waiting in line.
Working with Techno Media, a Mood Media company, they found the solution with Magnetic 3D's glasses-free 3D product line which not only provided the "WOW Factor" and "buzz" desired but also the right price point and foot print to make an in-store 3D Hologram a reality.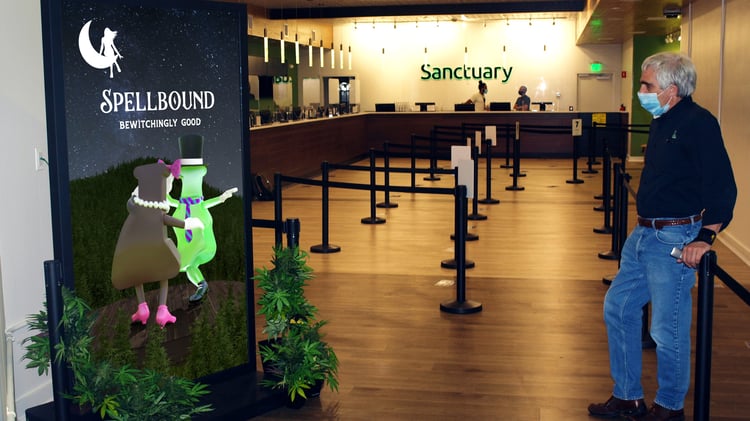 Choosing Magnetic 3D's 85" Wildfire Pro Portrait Format Display provided the scale and impact they knew would be a "show-stopper". As for imagery, Sanctuary commissioned incredibly imaginative and theatrical cannabis-themed 3D content that tells the story of the Sanctuary brand and introduces multiple unique products.
The M3D content team developed storyboards under the direction of the Sanctuary marketing team, which were intended to fully maximize the capabilities of the 3D display with top-notch 3D visual effects. Remarkably, the finished 3-minute loop creates the feeling that you're on a 3D ride, a fun introduction to the Sanctuary experience.
The cinematic brand and marketing piece was produced in M3D's high fidelity, native, multi-view format for auto-stereoscopic displays in 4K resolution. The cannabis imagery and inherent 3D attributes of the products, flowers, buds, and accessories offered fabulous creative opportunities for the animators and the end result was truly mind altering.
Check out the piece on our site here, www.magnetic3d.com/m3d-portfolio/sanctuary-medicinals-store/ or better yet, head to Brookline and see the real thing in-store. At 7 feet tall, the 85" portrait offers unparalleled depth and pop with the pseudo-holographic imagery floating in mid-air that will have you wondering if you might have tried edibles.
The system running on Retail CMS platform, XOGO is another example of how Glasses-Free 3D Digital Signage can easily be deployed at retail to enhance the in-store experience and make it cool to go shopping again.
Engage your customers with state-of-the-art 3D display technology that shows off your products like they've never seen them before! Find out how you can deploy our 3D Platform-as-a-Service at www.magnetic3D.com.